The Ogun State Community, Social Orientation, and Safety Corps (So-Safe Corps) has arrested a young man identified as Ridwan Ishau on charges of allegedly murdering his father for ritualistic purposes. This harrowing incident took place in Oshoku Village, within the jurisdiction of Ijebu North Local Government Area of Ogun State.
The revelation came through an official press statement issued from the Office of the State Commander of
So-Safe
Corps, Commander
(Dr) Soji Ganzallo
, and disseminated by the Office of the Director of Information and Public Relations of the Corps, Assistant Commander Moruf Yusuf. According to the statement, on Thursday, August 31, 2023, during a routine patrol, So-Safe Corps officers heard disturbing sounds emanating from a building. Prompted by their duty to maintain safety, they entered the premises and were confronted by a gruesome scene: a lifeless body lay in a pool of blood, and Ridwan, the alleged perpetrator, fled the scene on sighting the officers.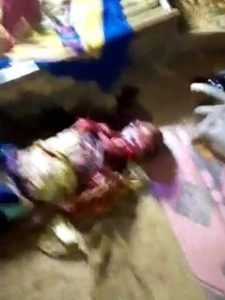 Upon briefing, Commander Ganzallo swiftly directed the Zonal Commander of the Ijebu Zonal Command, ACC Marcus Ayankoya, to apprehend the suspected killer, Ridwan. After an intensive search, Ridwan was apprehended in a nearby bush and in a chilling confession, the young man admitted to using a rope to strangle his father, Ishau, and subsequently removing specific body parts for ritualistic purposes.
Shockingly,
Ridwan Ishau
disclosed that he had acted at the behest of a ritualist known as Baba Kekere, who had requested the private part, larynx, and four teeth of his father for the ritual. However, when questioned about the whereabouts of the alleged ritualist, Ridwan refused to divulge any details.
In the interest of justice and further investigation, So-Safe Corps has transferred Ridwan Ishau into the custody of the
Nigeria Police Force
, Ogbere Divisional Headquarters.