In a swift response to a call from vigilant youths in IWOPIN, Ogun State, SP Ebietomiye Adeleke, the officer in charge of Marine Police division, displayed remarkable action as his team quickly moved to foil a cable theft operation. The youths had spotted four men, believed to be vandals, cutting armoured cables from an electric pole on Igbolile Street in IWOPIN.
The keen observation by the local youths led to the immediate mobilization of the Marine Police team to the crime scene. As a result, three of the suspected vandals, identified as Saliu Ashimiu, Awolu Ibrahim, and Ibrahim Saliu Ibrahim, were apprehended, while another managed to escape on a motorcycle.
The diligent work of the marine police didn't end with the arrests; they managed to recover two motorcycles used for transporting the stolen items, which included 3 button phones, 1 android phone, 2 iron cable cutters, clothes, and a repulsive charm.
The trio, hailing from Oni village via IWOPIN, were caught red-handed attempting to disable an electric cable that powered a portion of the community. It was revealed that the transformer they targeted was the property of
IBEDC
, installed to provide electricity to the area.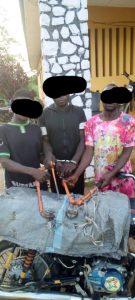 However, the suspects, who confessed to their crime, denied any affiliation with IBEDC or the Power Holding Company of Nigeria.
The incident underscores the growing issue of deliberate and wanton destruction of public and private property, meant for the communal benefit of the public. Authorities stress that these young offenders cannot claim ignorance of the law, especially given their prior criminal history.
As the legal process unfolds, these individuals face the risk of a jail term if convicted. They will be brought to court to answer for their actions, and diligent efforts will be made to track down and apprehend the suspect who managed to evade capture.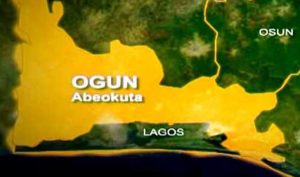 SP Omolola Odutola
, the Police Public Relations Officer of the
Ogun State Police
Command Headquarters Eleweran, highlighted the significance of community vigilance and prompt police response in maintaining law and order. The successful marine police operation serves as a reminder that law enforcement remains committed to upholding the safety and security of the public.