In a display of heartfelt empathy, His Excellency, The Senator, Otunba Gbenga Daniel, a distinguished figure known for his contributions to public service and engineering excellence, paid a solemn condolence visit today, August 28, 2023, to the revered Alaperu of Iperu, HRH Oba Idowu Basibo.
The purpose of the visit was to extend his deepest sympathies on the passing of
Oba Idowu Basibo
's beloved wife. With profound respect for tradition and community,
Senator Gbenga Daniel
, FNSE, FAEng, shared a moment of shared grief with the grieving monarch, offering words of comfort and support during this somber period.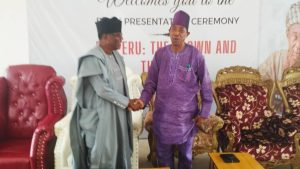 The Senator's presence underscored his commitment to fostering unity and compassion, transcending political boundaries to stand in solidarity with the Alaperu of Iperu in their time of loss. As news of
Senator
Gbenga Daniel's condolence visit spreads, it highlights his unwavering dedication to not only his
political duties
but also his role as a compassionate citizen.
The gesture reflects his values of empathy and unity, illustrating his ability to connect with people on a personal level, beyond his public persona. The Alaperu of Iperu, HRH Oba Idowu Basibo, deeply touched by the Senator's gesture, expressed gratitude for the support received during this trying period, emphasizing the importance of such bonds in fostering a stronger sense of community.
This visit serves as a poignant reminder of the significance of leadership that transcends formal roles, leaving a positive impact on individuals and communities alike.