In a recent series of successful operations, the Delta State Police Command has managed to recover a cache of dangerous weapons, including two AK-47 rifles, one locally fabricated pistol, pump-action guns, and two locally made cut-to-size guns. These seizures have been attributed to the relentless efforts of law enforcement agencies to combat crime in the region.
The most recent development occurred on August 26, 2023, when officers from 'C' Division Asaba, in collaboration with local vigilantes, encountered a young individual carrying a suspicious sack near the Second Niger Bridge. The suspect fled upon spotting the police, leaving behind the sack containing an AK-47 rifle. The pursuit of the suspect is currently underway.
Furthermore, the Command's Decoy Squad successfully apprehended a notorious cultist, identified as
Godfrey Tietie
, also known as "Don Baby," in Oghara Town. This operation, based on credible intelligence, led to the arrest of the 40-year-old suspect and the recovery of a locally fabricated revolver pistol.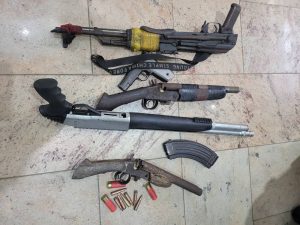 Police
investigations have unveiled Tietie's connections to the Aiye confraternity, as well as suspicions of his involvement in the illegal distribution of firearms to cultists across Sapele, Oghara, and nearby areas. Additional triumphs include the thwarting of a cult initiation ceremony, where a locally
fabricated Beretta
pistol and live ammunition were discovered after suspected cultists fled from the police during a raid on their hideout.
In yet another display of their commitment to safeguarding the community, the Delta State Police Command retrieved an array of firearms and ammunition on August 16th and 20th. A combined effort involving the DPO Ekpan Division and surveillance teams led to the seizure of an AK-47 rifle, a pump-action gun, two locally made cut-to-size guns, and a substantial quantity of ammunition. These successes were crucial steps in diminishing the criminal activities of the targeted elements.
CP Wale Abass
, the Commissioner of Police for Delta State, used these incidents as an opportunity to emphasize the importance of discouraging youths from engaging in cultism, crime, and other detrimental activities. He stressed that the police command is unwavering in its dedication to eradicating crime from the state.
Abass called upon the public to cooperate by providing timely and credible information that would contribute to the ongoing efforts to maintain safety and security.