In an unfortunate incident on September 2, 2023, a case of attempted murder unfolded in Sango Ota, when a heated altercation between a resident and security personnel took a dangerous turn, prompting the Ogun State Police to arrest suspects.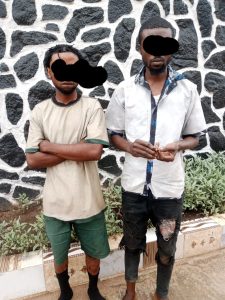 It was one
Abiodun Fatai
who reported at the police station that his younger brother, Ramon Rasaq, became embroiled in a dispute with security guards, resulting in a gunshot that left him severely injured.
According to Ogun State Police Command Image Maker,
SP Omolola Odutola
, the altercation ignited when Ramon Rasaq, a resident of the area, encountered two security men, identified as Michael Adelayo and Ganiyu Saka, who were not at their designated security post. Feeling frustrated, Ramon took matters into his own hands by opening the gate himself. This action provoked a quarrel between him and the security personnel.
As tensions escalated during the dispute, Ganiyu Saka, one of the security men, resorted to the use of lethal force and fired a shot that struck Ramon Rasaq in his eyes.The victim was immediately rushed to a traditional healer who skillfully extracted seven pellets from his right eye, providing crucial initial treatment.
Following this, CSP Saleh Dahiru, the Divisional Police Officer of Sango Ota, facilitated the necessary paperwork for Ramon's transfer to the Lagos State University Teaching Hospital where Ramon received immediate medical attention to stabilize his condition. Tragically, he lost his right eye due to the severity of the injuries sustained. However, the attending doctor reported that Ramon is currently responding positively to the treatment, offering a glimmer of hope for his recovery.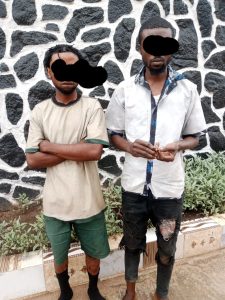 In response to the incident, the Commissioner of Police, CP Abiodun Alamutu, has taken swift action by directing thatthe suspects, Michael Adelayo and Ganiyu Saka, be transferred to the State Criminal Investigation Departments for further investigation. The police are now actively pursuing the case, with the possibility of prosecution looming over the two security personnel.
This regrettable incident serves as a stark reminder of the need for responsible use of force and the importance of addressing conflicts through peaceful means. The community and authorities await the outcome of the investigation as they seek justice for
Ramon Rasaq
and accountability for the actions of those involved.