The Institute of Political Leadership and Training (POLA) recently hosted a three-day master class focused on enhancing the skills and knowledge of media professionals in various domains.
The Chancellor of POLA, Otunba (Engr.) Gbenga Daniel, who also serves as the Senator for Ogun East Senatorial District, facilitated the program.
Aimed at Mid-Level Journalists, Graphics Designers, Social Media Influencers, and Freelance  Journalists from various media houses, the POLA training emphasized retooling for optimum delivery in a democratic environment.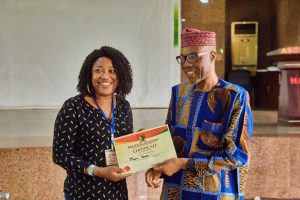 The program commenced with the arrival of participants, setting the stage for the intensive sessions planned for the following days.
The second day delved into crucial aspects of media work. Sessions included insights on online exposure enhancement through Google Search, strategies for building persuasive opinion content, and the imperative skill of distinguishing facts from fake news. Participants were provided with tools to navigate the contemporary
media landscape responsibly
. The day concluded with an interactive session featuring Senator Otunba Engr. Gbenga Daniel.
POLA Facilitators, Hon. Kehinde Sogunle, Professor Kayode Oyesiku, Professor Adegbemi Onakoya, Dr. Babatunde Onadeko, Hon. Fatai Sowemimo, Mr.
Steve Oliyide
, and General Olumuyiwa Okunowo shared their expertise during the training . With the final day focusing on the importance of teamwork, with a pep talk by Professor Adegbemi Onakoya, participants were reminded of the significance of collaboration in achieving collective goals.
Over one hundred (100) participants from the Ogun East Senatorial District actively engaged in the program. POLA's commitment to improving media capacity was evident as attendees were equipped with skills to navigate the dynamic media landscape responsibly.
The capacity development initiative was a significant step towards fostering a more informed and responsible media community in the region.
By Fikunmi Sokoya