In a recent announcement on Monday, 7 August 2023, the President of the Senate, Senator Godswill Akpabio, revealed the appointment of Otunba Engr. Gbenga Daniel, Senator representing Ogun East Senatorial District, to significant roles in the Senate.
Having embarked on his legislative journey following his inauguration as a member of the National Assembly last June, The Senator,  Otunba Engr. Gbenga Daniel has consistently demonstrated his commitment to grassroots development and the well-being of Nigerians. Notably, his sponsorship of the Southwest Development Commission bill, which has successfully passed its first reading, aims to establish a commission tasked with efficiently managing federal funds and contributing to regional progress.
Beyond his legislative initiatives, OGD's direct intervention in the
Ogun East Senatorial District
deserves recognition. By extending no-interest business loans to over 800 businesses across the district, he has exemplified his dedication to empowering local enterprises and fostering economic growth.
The Senate President's appointment of Otunba Engr. Gbenga Daniel underscores the government's recognition of his impactful contributions and underscores his ability to lead in crucial committees.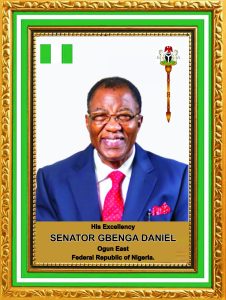 As he assumes these new responsibilities, Nigerians can anticipate continued efforts to drive positive change and enhance the nation's navy operations and national identity infrastructure.