In an impressive feat, the Delta State Police Command has successfully apprehended seven suspected kidnappers, including a self-proclaimed female pastor who harbored a victim in her residence.
According to a statement released by the Police Public Relations Officer,
Bright Edafe
, the incident unfolded on July 19, 2023, when a kidnapping case was reported at the Obiaruku Police station. The victim, whose identity is being protected, recounted that on that fateful evening, three masked gunmen wielding firearms abducted the victim's mother as they returned from their shop in Obinoba, Nkwani LGA.
Responding swiftly, the Commissioner of Police, Wale Abass, directed the collaboration between the Obiaruku Police station and the Special Anti-Kidnapping and Cyber-Crime Squad (SAKCCS) to track down the culprits and secure the victim's release. After negotiations, the kidnappers released the victim on July 26, having obtained a ransom of #2 million and jewelry valued at #3.5 million.
A determined investigation ensued, yielding remarkable results on August 4, 2023 when one of the suspects, Kabi Kester, aged 43, was apprehended and confessed to being part of the kidnapping gang. Kester's confession led to the arrest of Henry Owojero, 42, and Franca Okuzor, a self-proclaimed pastor and spouse of gang leader Celestine Nova. The victim had been held captive for six days in Nova's house.
The suspects admitted their involvement in the kidnapping and identified four more members of the gang: Celestine Nova, Uche, Chinedu Etudo, and Nweke. An intensive manhunt is currently underway to locate the remaining gang members.
In another operation, Delta police operatives from the Dragon Patrol intercepted a commercial Sienna vehicle on August 3 along the Benin/Asaba Expressway at Issele-uku. A search led to the discovery of 250 live cartridges concealed in a bag. The owner of the bag, Omoruyi Osemudiamen, 46, was arrested as investigations continue.
Additionally, a joint operation involving the Bufallo and Eagle-Net Special Squad of the Delta State Police Command,  unfolded on August 3. In this case, James Moro, 23, was apprehended on Summit Road in Asaba. A locally fabricated pump action gun was seized from Moro, revealing his involvement in nighttime robberies in the area.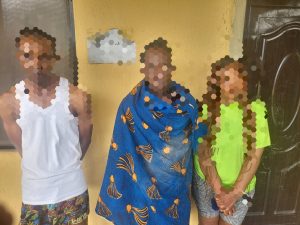 The arrested suspects remain in custody as investigations progress, highlighting the commitment of the Delta State Police Command in maintaining law and order in the region.
By Grace Olaogun & Fikunmi Sokoya