In the last two months, Nigeria's currency, the Naira, has experienced a continuous decline in value against the US Dollar, with the Central Bank of Nigeria (CBN) adopting a floating exchange rate policy.
The Naira's worth has dropped significantly from N750/$1 to N950/$1 on the parallel black market, triggering concerns in Africa's largest economy.
The growing disparity between the official exchange rates and those on the black market, now standing at a substantial #181 difference, is prompting inquiries into the effectiveness of the CBN's currency floatation strategy. The ongoing
CBN
investigation by a specially appointed examiner,
Jim Obazee
, under the authority of
President Bola Ahmed Tinubu
, is believed by experts to have contributed to the Naira's depreciation.
Recent financial disclosures from the CBN show combined debts of $7.5 billion to
JP Morgan
and Goldman Sachs, alongside a foreign reserve of $33.88 billion. Analysts attribute these financial complications as a contributing factor to the lingering forex crisis, which is negatively impacting Nigeria's economy heavily reliant on fuel.
Amid the removal of petrol subsidies in June, oil marketers are suggesting potential hikes in petrol prices due to the surging Dollar value. This will likely result in further hardships for the already struggling population. Aminu Gwadabe, president of the Association of Bureau De Change Operators of Nigeria, highlights the role of unregulated online platforms operating across different jurisdictions in the turbulence of the forex market.
Idakolo Gbolade, CEO of SD & D Capital Management, observes that the Naira's decline is in part due to reduced forex inflows, leading to scarcities of foreign currency and placing pressure on reserves. Gbolade speculates that major oil companies and commercial banks might be contributing to the crisis to further their own interests. As uncertainty prevails, inflation continues to rise, exacerbating the high cost of living.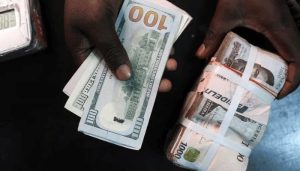 Swift policy adjustments are imperative to address this challenging economic situation and restore stability to the Naira's value.
By Grace Olaogun