The Acting Comptroller-General of Customs, Bashir Adewale Adeniyi MFR, demonstrated his unwavering commitment to education and stakeholder engagement during his recent visit to the Kaduna Area Command. His visit extended to the Customs Primary School in Barnawa, where he personally assessed the facility's condition.
Mr. Adeniyi spoke with the School's Assistant Headmaster,
Adeshina Fatai
, and made a solemn vow to address the short, medium, and long-term needs of the school. He emphasized the Nigeria Customs Service's determination to create an optimal environment for teaching and learning, stating, "We'll do the best we can to raise the spirit of this school to educate the wards of the residents properly. We have enough to chew to ensure that we renovate the school because we all love our children to have a better knowledge."
In addition to his commitment to education, the Acting Comptroller-General of Customs met with representatives of business stakeholders in Kaduna. During this meeting, he expressed his appreciation for their partnership and compliance with
Customs rules
, acknowledging the pivotal role they play in the country's security and revenue generation. He extended a hand of collaboration, emphasizing the importance of addressing their challenges and fostering a strong partnership.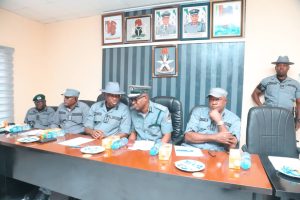 Mr. Adeniyi also highlighted the pro-business stance of President Bola Ahmad Tinubu's administration, assuring stakeholders of the government's support to boost their businesses. Furthermore, the Acting CGC congratulated the Zonal Coordinator in charge of Zone 'B',
Obi Ekwealo
, on his 60th birthday and statutory retirement from active service. This celebration marked an occasion to recognize Mr. Ekwealo's contributions to the Customs family and the nation.
The Zonal Coordinator for Zone 'B', Assistant Comptroller General Obi Ekwaelo, praised Mr. Adeniyi's appointment as Acting CGC, emphasizing its significance as the Nigeria Customs Service strives to become a leading force in revenue generation, trade facilitation, and the suppression of economic subversive activities, particularly in the expansive Zone 'B' region.
The Acting Comptroller-General's visit to Kaduna underscores his dedication to education and collaboration with stakeholders, ultimately working towards a more secure and prosperous Nigeria.