Senator Otunba Engr. Gbenga Daniel paid an unannounced visit to DATKEM Plaza on Folagbade Street, Ijebu Ode today, seeking to witness firsthand the extent of vandalization of the property owned by his wife, Yeye Olufunke Daniel. The visit came just hours after government emissaries initiated the demolition of the iconic plaza.
Governor Dapo Abiodun's administration had marked the
DATKEM
Plaza for demolition and issued a three-day notice before the early morning operation took place on Sunday, September 10, 2023. The demolition was abruptly halted when local residents, awakened by the noise and commotion, raised alarms and began protesting the action.
Upon arriving at the scene,
Senator Gbenga Daniel
, visibly shocked by the state of the once-iconic DATKEM Plaza, which was estimated to be worth over #1 billion Naira, remained silent as he conducted an inspection of the extensive damages inflicted on the edifice.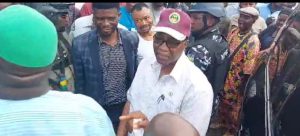 The sudden visit by the Senator has added another layer of complexity to the controversy surrounding the demolition of DATKEM Plaza, leaving many wondering about the political and personal implications of this incident.
As investigations into the circumstances of the demolition continue, residents and the public eagerly await further developments in this
unfolding story
.