In November 2002, The Sun Newspapers embarked on an innovative journey to distinguish itself in an already competitive newspaper market. This endeavor included the recruitment and training of fresh graduates to mold them into exemplary journalists. Among the promising recruits was Juliana Francis, whose literary prowess caught the eye of Femi Adesina, the founding editor of the newspaper.
Under
Femi Adesina
's guidance, this cadre of budding journalists underwent rigorous training, transforming them into capable reporters.
Juliana Francis
, in particular, shone brightly, eventually becoming a skilled writer and journalist. Her debut work, "We are Priceless," is a testament to her talent and dedication.
"
We are Priceless
" a 218 Number of Pages, is a gripping advocacy book that delves into the harrowing issue of child trafficking and related social ills in Nigeria. Its vivid narrative weaves the story of five girls who daringly escaped from the clutches of sex slavery at the Good Time Hotel, intertwined with tales of dysfunctional families, crime, and human trafficking. The book serves as a compelling resource that ought to be adopted by institutions like the National Agency for the Prohibition of Trafficking in Persons (
NAPTIP
) and incorporated into secondary school curricula.
The author adeptly portrays the root causes of these heinous crimes, emphasizing the roles of dysfunctional families, poverty, neglect, and the allure of quick riches. Moreover, the book sheds light on the commendable efforts of security agencies, notably NAPTIP, and the dedicated police officers who resist corruption.
Juliana Francis's writing style is nothing short of mesmerizing. Her ability to paint vivid imagery with words is evident throughout the book. Phrases like "noisy night" and "drunkenly against one another" showcase her exceptional command of language and literary techniques.
The core message of "We are Priceless" lies in the importance of love and self-worth. As the characters in the story learn to love themselves and receive love from others, they begin to heal and rediscover their intrinsic value as human beings.
While the book is nearly flawless in terms of writing and editing, a few minor errors, such as typos and repeated words, are present. Notably, the use of "priceless" as two words on the cover raises some curiosity, though it might be an intentional stylistic choice. In conclusion, "We are Priceless" by Juliana Francis is a powerful and thought-provoking work that tackles pressing social issues with grace and sensitivity.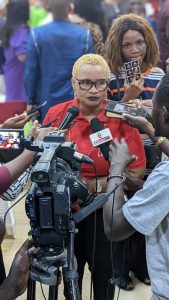 Femi Adesina's endorsement and recommendation for its inclusion in the school curriculum speaks volumes about its importance. This Juliana Francis's book is a must-read for all audiences, as it offers a glimpse into a world of compelling storytelling, suspense, and profound moral lessons.