The Yoruba Council Worldwide have registered their heartfelt condolences and commiserate with the family, the fans and all the admirers of Ilerioluwa  Oladimeji Imole Aloba popularly called Mohbad, on his painful exit on September 12,  2023.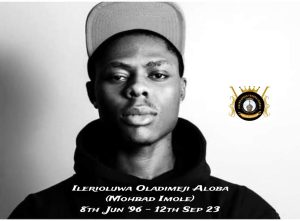 "We commiserate with family, colleagues, friends and fans of
Mohbad
on exit from this terrestrial world under excruciating pains, depression, suppression, harrassment, intimidation, bullying, aggravated premeditated murder and suspicious circumstances.
"
Yoruba Council
is deeply pained and saddened by the untimely demise of the late superstar, highly talented Yoruba-born musician that was immensely blessed and extraordinarily gifted with aesthetic musical excellence that was embellished with glitz, glamour and boundless energy while alive, yet he foresaw his death." The Council expressed.
In a press statement made available to
fasnews
by the President of Yoruba Council Worldwide,
Aare Oladotun Hassan
Esq, the Council said even in death his popularity has continued to grow more resoundingly and exponentially being a rare gem star that came, saw and conquered and his untimely exit has continued to shake the world to its foundation.
Mohbad's aura and spirit radiates and his love eternally inscribed in our heart, predicated on his indelible footprints and melodious signature baritone sounds and electrifying vibes.
"Most unfortunate and painfully, the voyager has since left his "frenimies" in deep sorrows, tears and blood. Imole's light has continued to shine and radiate more colourfully and powerfully globally. Regrettably, his mysterious death has eventually created an indefatigable platform at unravelling many shoddy mysteries in the entertainment and music industry, and as the police forensic investigation continues, we use this medium to call for calm and peace in Nigeria.
"Yoruba Council Worldwide have set out free Legal support services to assist the family and ensure all steps taken are done in accordance with the rule of law and standard practice. We strongly believe that his death has already revolutionized the entertainment industry and shall continue to serve as an enlightenment pedestal for the present and future  generation music artists.
"Yoruba Council Worldwide is rest assured that a robust investigation would definitely unravel the remote cause and circumstances behind his death,  and whosoever have a hand in his sudden demise will surely be made to face the full wrath of the law. May his indomitable spirit never get weary in power, may his light continue to shine more brighter, may the good Lord grant his family and beloved ones uncommon fortitude to bear the irreplaceable loss.
"May his liberating soul continue to rest in peace.
"Sun re o Imole (Sleep well)" the statement read in parts.