The Abraham's Tabernacle Church hosted choirs and dignities from all over the country at the Asiwaju of Remo Christians's 2nd annual Choir Festival with the theme "GratefulHearts".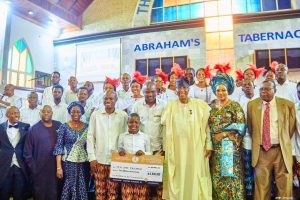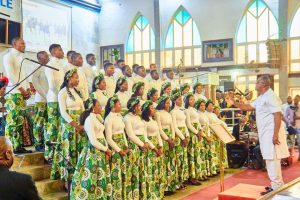 It was a win win for all the Choirs that attended the Asiwaju of Remo Christians Choir Festival with the
New Wine Ensemble
going home with a whooping sum of #2,000,000, Vice de Chorale – #1,000,000, Great Remo Chorale – #700,000, The Chamber Music Chorale- #450,000, Abraham's Tabernacle Choir- #350, 000 and the Emeralds Choir- #300,000. All observing Choirs also went home with #200,000 each, totaling #6,000,000 cash prizes with other incentives as well.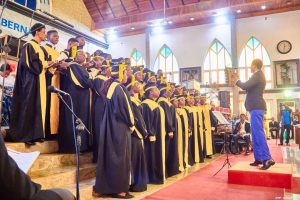 Dignities who graced the Asiwaju of Remo Christians Choir Festival include:
Chief Olusegun Obasanjo
, GCFR, Former President of the Federal Republic of Nigeria, Aare Adetola Emmanuel King,
Otun-Asiwaju of Remo Christians/ Chairman/CEO, Adron Homes & Properties, Rev. Engr. Adeolu Olanrewaju Odusote, FNSE, FNIM. Foursquare Gospel Church Asokoro, Abuja.(Guest Minister), Dr. Taiwo Afolabi, Group Chairman, SIFAX Group, (Chairman of the Occasion) ably represented by Barrister Talabi Adekitan
AGM (Legal & Claims), HE Arakunrin Rotimi Akeredolu, SAN. The Executive Governor of Ondo State, represented by the Special Adviser, Dr. Mrs. Bunmi Ademosu.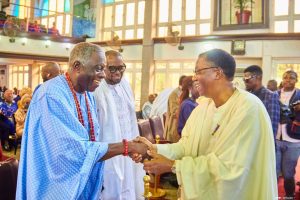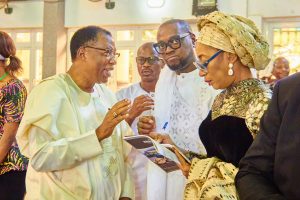 Also in attendance was
Rev. Mother Esther Abimbola Ajayi
, Founder, Love of Christ Generation Church (C & S), Dr. Adeola Badru, His Imperial Majesty, Oba Babatunde Ogunwusi, Ojaja II, Ooni of Ife, represented by: HRM Olalekan A. Fasesin, Aladeokin of Oriade, His Imperial Majesty, Oba Dr. Adekunle Aromolaran, Owa Obokun & Paramount Ruler of Ijesaland, represented by Chief Engr. Dideolu Falobi, FNSE, Bobajiro of Ijesaland, Chief Wole Ogunbayo, CEO, AMBA Properties, and Mr. Tosin Koyi.
Present also were Representatives of Members of Ijebu Traditional Council, Members of Remo Traditional Council, Otunba Segun Sowumi, Asiwaju Engr. Tony Ojesina, Prof. Gbemi Onakoya, Former SSG, Ogun State, Rev. Dr. & Pastor Mrs. Dickson Madoghwe, Rt. Rev. Dr. Solomon Adegbite, Bishop of Ijebu Diocese, Methodist Church Nigeria, Most Revd. Dr. Paul Onanuga, Archbishop, The First African Church, High Chief Bode Mustapha, The Osi of Egbaland, Mr. Babatunde Ogala.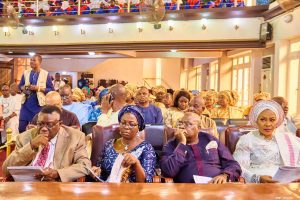 Panel of Judges include: SAN, Prof. Kayode Oyesiku (Chief Judge), Dr. Mrs. Loko Omolara Olasunbo (Judge), Mr. Adekunle Oyesanya, SAN. (Judge), Hon. Mrs. Jokotade Odebunmi (Time Keeper), Mrs. Kehinde Daniel-Williams (Time Keeper).
The
Asiwaju
of Remo Christians Choir Festival is an annual gathering for choral performances by various church Choirs, choral groups within and outside Ogun State. Even though it started as part of a thanksgiving programme of Otunba Gbenga Justus Daniel at the International Ecumenical Worship Centre,  " Abraham's Tabernacle" Sagamu, Ogun State, a Worship centre build to honor God and immortalise his late father, His Grace  Most Revd Abraham Adebola Daniel, JP (1916- 2011), it qas separated and expanded and rebransed as a distinct programme in 2022.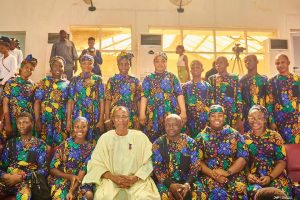 The aim of the programme is to promote and enhance signing in churches in the community and Nigeria at large.