RULAAC commiserates with the Nigeria Police over the unfortunate attack by gunmen on the convoy of the Assistant Inspector General of Police, Zone 12, headquartered in Bauchi State AIG Audu Madaki which left him with gunshot injuries and hospitalization and the killing of his Orderly. We particularly sympathize with the families of the injured and killed officers.
Reports indicate that the AIG was on his way to Abuja from Bauchi when the suspected terrorists ambushed and attacked him.
The incident was said to have happened between Barde and Jagindi area in Kaduna State on Tuesday August 2, about 2.30pm.
"RULAAC do not wish that our security agents who are charged to protect us become themselves the victims of insecurity and daredevil attacks and mindless killings by the criminals they are supposed to checkmate.
"Coming amidst increasing terrorists attacks in recent times and the renewed effrontry and daredevilry by the terrorists who have carried out serial attacks targeting state assets, from the Kuje Medium Correctional Centre attack and the release of terrorists in prison, to the attacks on the Presidential convoy, followed by attack on the Presidential guards and then, on a military chepoint, and the threat by the terrorists to abduct President Buhari and other senior government officials, without commensurate response from the Commander-in-Chief of the Armed Forces and his security chiefs, this latest attack on the convoy of an AIG is another unmistakable message by the terrorists that they are not issuing empty threats and that they are closing in on the citadel of power." RULAAC said.
Stating further,  RULAAC pointed out that: "The terrorists clearly are demonstrating that they have taken control of the country from those elected to provide security and welfare for the people. President Buhari and his spokesmen will continue to trivialize, dismiss and ignore this clear and present danger and threat to the sovereignty of Nigeria at their own peril.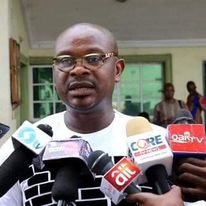 "We have no doubts that the problem is not the unwillingness or lack of the potentials by our security forces to tackle the terrorists We believe that the problem is the corruption and diversion of security funds that have denied our security forces the adequate modern equipment they need (in spite of huge security budgetary allocations and borrowings) and the motivation they need to fight. The problem also includes internal sabotage and complicity by some government officials and politicians who are benefitting from insecurity, and the unimaginable incompetence by the government to provide leadership.
"For the umpteenth time, and it cannot be overemphasized, we ( RULAAC) call on President Buhari to give way since, by his own admission and body language, he has become tired and has no answer whatsoever to the escalating insecurity. He needs to give way so that a competent leadership can step in to begin the difficul task of rescuing and rebuilding the totally derailed and damaged country.
"Once again, our RULAAC) condolences to the Nigeria Police Force and the families of the victims of the latest attack by terrorists. We wish the AIG quick recovery.."  Okechukwu Nwanguma
RULAAC Exective Director