The nation's capital witnessed a tumultuous scene yesterday,August 2,2023 as enraged protesters took matters into their own hands, forcefully pulling down the imposing gate of the National Assembly.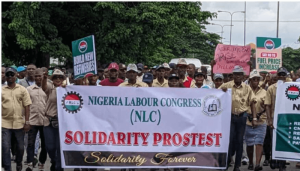 The protest, a fiery response to the recent removal of subsidies, turned into a chaotic display of frustration and discontent. The incident marked a significant escalation in the ongoing demonstrations against the subsidy removal, which has stirred widespread outrage among the Nigerian populace.
Led by prominent labor figures,
Joe Ajaero
of the Nigeria Labour Congress (NLC) and
Festus Osifo
of the Trade Union Congress (TUC), the protesters swarmed the entrance of the
National Assembly
earlier in the day. Seeking to voice their vehement opposition to the subsidy removal, they demanded that security personnel grant them access to the Assembly grounds. Tensions mounted as the security operators, standing firm, refused to comply with the
protesters
' demands.
Frustration grew palpable among the demonstrators as the standoff intensified. Failing to obtain entry through peaceful means, a group of protesters resorted to tearing down the imposing gate, allowing the crowd to surge into the Assembly complex. The atmosphere turned charged as protesters flooded the premises, brandishing placards and chanting slogans condemning the subsidy removal.
The chaotic scene painted a vivid picture of the public's profound dissatisfaction with the government's recent decision.
The subsidy removal, which had been met with widespread disapproval since its announcement, has triggered a series of protests across the country. Citizens from diverse backgrounds have united in their opposition to the policy change, highlighting its potential impact on the cost of living and overall economic stability. As the protesters occupied the Assembly complex, their message was clear: they would not be silenced, and their concerns over the subsidy removal must be addressed.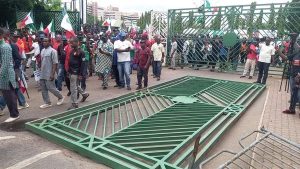 Security forces swiftly moved in to regain control of the situation, attempting to disperse the crowds and restore order within the Assembly premises.
The incident serves as a stark reminder of the potent undercurrents of unrest and dissatisfaction prevailing within the Nigerian society. As the government grapples with this escalating crisis, the pressing need for dialogue and meaningful engagement with the public becomes increasingly evident. The events of today underscore the urgency of addressing the concerns that have driven citizens to resort to such drastic measures in order to make their voices heard.