Raymond Dokpesi, the prominent Nigerian media mogul and Chairman of the Africa Independent Television (AIT), lived a life marked by ambition, resilience, and a relentless pursuit of excellence has passed on.
Born into a modest family in Ibadan, Nigeria, Dokpesi's early years were shaped by the values of hard work and determination. Despite facing financial constraints, he pursued his education with unwavering dedication, eventually earning a degree in engineering.
However, it was in the realm of media that Raymond Dokpesi truly made his mark. Recognizing the power of communication, he founded the
Africa Independent Television
, a television network that quickly became one of the leading voices in the Nigerian media landscape. Under his leadership, AIT grew in stature, presenting alternative viewpoints and pushing the boundaries of journalism in Nigeria.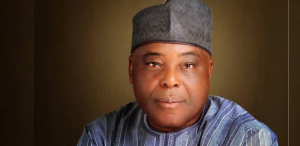 Dokpesi
's commitment to
journalistic integrity
was evident throughout his career. He fearlessly tackled controversial subjects, shedding light on societal issues and advocating for justice. His unwavering pursuit of truth often brought him into conflict with powerful forces, but he remained resolute, determined to uphold the principles of a free press and the right to information.
Tragically, the vibrant life of
Raymond Dokpesi
was cut short when he met with an untimely death by the family today, Monday, May 29,2023.
The news of his passing sent shockwaves through the media industry and the nation as a whole. Tributes poured in from across Nigeria, with journalists, politicians, and ordinary citizens mourning the loss of a visionary leader who had left an indelible impact on the nation's media landscape.
Raymond Dokpesi's legacy as a media icon and champion of press freedom will continue to inspire generations to come. His fearless pursuit of truth, unwavering commitment to journalistic integrity, and dedication to empowering the masses through information serve as a testament to his enduring influence. Though his physical presence may be gone, his indomitable spirit will forever be remembered in the hearts of those who admired and respected him.