Lagos State Police Command, Public Relations Officer, CSP Olumuyiwa Adejobi on Thursday, January 21, 2021 released some attractive, good-looking profile pictures to the media.
However, CSP Adejobi recommended that men of the pen profession maintain the Lagos state Commissioner of Police, CP Hakeem Odumosu's pictures in the Command's stories while his picture can tag along in the body of stories.
Muyiwa Adejobi, informed Media practitioners on this latest development in his office while appealing to Media practitioners and stakeholders to maintain all COVID-19 protocols, by washing their hands for about a minute with soap and clean running water and keep a one-meter distance away from each other.
He also appealed to media compatriots to continue partnering with the Police towards security enhancement in a bid to curb crime and criminalities through their media publications.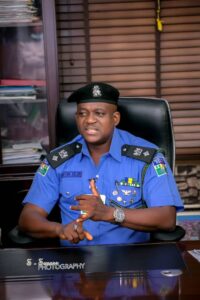 The Newly decorated PPRO who was recently decorated from the rank of a Superintendent of Police to the rank of Chief Superintendent of Police, also extends his greetings to the amiable Commissioner of Police, CP Hakeem Olusegun Odumosu. He reiterates his promise to remain loyal to his CP and to the Nigeria Police Force.