In a breakthrough for Ogun State Police, Owonikoko Akeem, a 33-year-old male, has been captured along the Sagamu-Ijebu-Ode-Benin Highway in a meticulously planned operation led by ACP Omosanyi Adeniyi, the Area Commander, Ijebu-Ode.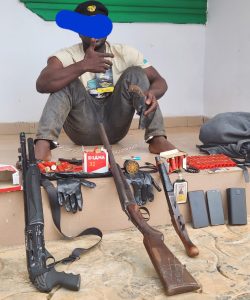 The apprehension of Akeem, believed to be a key figure in a wave of criminal activity, has brought a sense of relief to the residents of Obalende, who can now sleep with both eyes closed. The daring operation unfolded around midnight when police spotted Akeem driving a Toyota Camry inbound to Ijebu-Ode from Ososa.
Upon sighting the police, he attempted to evade capture by diverting into a close but police action led to a chase, during which all occupants of the vehicle scattered, but were ultimately captured. Among those apprehended was a mastermind in a VGN uniform who was orchestrating the nefarious activities.
Upon searching the abandoned vehicle, Police detectives discovered a cache of weaponry and contraband, including 32 expended cartridges, 78 live cartridges, and a locally fabricated short gun. A subsequent search warrant executed at Akeem's residence yielded an alarming array of items, including additional firearms, ammunition, illegal drugs, stolen vehicles, and items linking him to criminal activities. Akeem has reportedly implicated a police inspector named Ola in his confession, suggesting complicity within the force.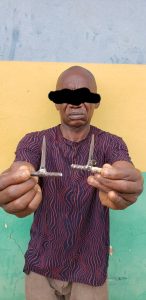 The Commissioner of Police,
CP Alamutu Abiodun Mustapha
, has praised the diligence and dedication of law enforcement in the Ijebu-Ode Area Command, as this arrest follows a string of recent successes, including the rescue of a kidnap victim. CP Mustapha emphasizes that the police will continue to relentlessly pursue criminals and maintain peace in Ogun State.
Meanwhile, a separate operation led by DPO Kemta CSP
Adeniyi Adekunle
has resulted in the re-apprehension of Sunday Dosunmu, a 53-year-old un-repented offender notorious for car theft. Dosunmu, who had previously been arrested in 2022 and recently released from prison, was caught in the act again by vigilant youths using fabricated master keys to unlock cars. The apprehension highlights the importance of persistent law enforcement efforts in ensuring justice is served.
In a related case, Semiu Shobakin, a 20-year-old suspect, has been brought into custody by the Odeda Divisional Police Officer, CSP Waheed Oni. Shobakin was found in possession of multiple suspicious items, including dismantled motorcycles, firearms, and a generator. The suspect's lack of coherent explanations has led to an ongoing investigation by the State Criminal Investigation Department to uncover the origins of these items.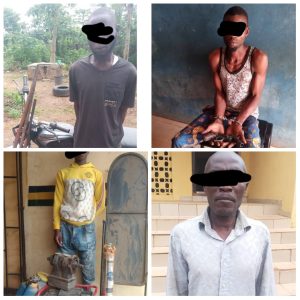 In another disturbing incident, Abiola Olumuyiwa, a 56-year-old employee of Libro Farm Bambose in Odeda, has been implicated in the disappearance of over 1,300 live fowls valued at 8 million Naira.
The Director of the farm reported the loss, and preliminary investigations are underway to determine the circumstances surrounding the missing livestock.
In a bid to curtail the wave of criminal activities, the Ogun State Police Command has achieved a significant breakthrough with the arrest of Qudus Ismail Eniola, who allegedly burgled a feed mill factory. Eniola is accused of stealing valuable machinery and equipment, and while he has confessed to the crime, investigations are ongoing to apprehend his accomplices.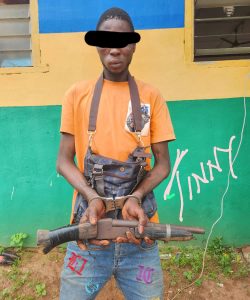 The incident at the New Hope Industry factory serves as a grim reminder of the hazards present in workplaces. The case of Jeremiah Sulaiman, an employee who suffered a severe injury, underscores the need for both employees and employers to prioritize safety measures, especially when dealing with automated machinery.
Furthermore, a notorious criminal known as "Tinny," affiliated with the Eiye Confraternity, has been apprehended after a coordinated effort by the police and So Safe Corps. Tinny's arrest revealed a trail of violence, including several murders, armed robberies, and the intimidation of innocent civilians. The arrest serves as a reminder of the ongoing efforts by law enforcement to dismantle criminal networks and restore peace to Ogun State.
The Ogun State Police Command continues to advocate for youths to embrace the amnesty window provided by the Police Commissioner, CP Alamutu Abiodun Mustapha, allowing individuals to renounce their involvement in criminal activities. The police affirm their commitment to upholding law and order, and urge young people to choose legitimate paths that contribute positively to society.
By Fikunmi Sokoya