In a major victory against drug trafficking, the National Drug Law Enforcement Agency (NDLEA) successfully raided a concealed warehouse at the bustling International Trade Fair Complex, Alaba, Ojo area of Lagos on Saturday, August 19th.
Operatives seized an astounding haul of illegal narcotics valued at a staggering Four Billion Eight Hundred and Twenty Million Five Hundred Thousand Naira (N4,820,500,000). The seizure included 1.4 million pills of tramadol 225mg, weighing 826 kilograms; 3.2 million pills of codeine weighing 3,360 kilograms; and 2,841 cartons of codeine syrup containing 284,100 bottles with 28,410 liters of the psychoactive substance.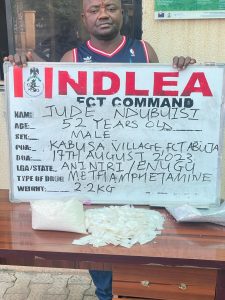 The warehouse, allegedly owned by a notorious billionaire drug baron, was successfully infiltrated by
NDLEA
agents during an extensive operation that spanned hours. Among the apprehended suspects was
Paulinus Ojukwu
, the Chief Security Officer of the wanted drug lord, who masqueraded as an automobile spare parts dealer. Ojukwu's arrest has greatly assisted ongoing investigations.
Femi Babafemi
, the NDLEA Director of Media and Advocacy, announced that this significant drug warehouse bust follows closely on the heels of the arrest of another major drug trafficker,
Faith Ebele Nwankwo
. She was apprehended on August 9th with a cache of Two Million Seven Hundred and Fifty Thousand (2,750,000) tramaking pills. The brand, a variant of tramadol in 225mg and 250mg doses, was seized from her residence in Lagos, as well as a warehouse in Amuwo Odofin.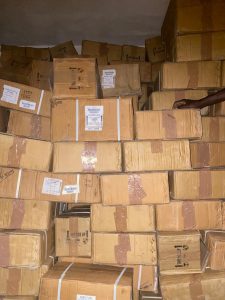 In addition to these major operations, NDLEA operatives intercepted a suspected counterfeit currency haul of Twenty Million US Dollars ($20 million) during a search along the Abaji – Lokoja road within the Federal Capital Territory. The fake money was discovered in a bus traveling from Lagos to Abuja, resulting in the arrest of the driver, Onyebuchi Nlededin.
Furthermore, recent raids in the Federal Capital Territory led to the seizure of a significant amount of illegal substances, including methamphetamine, skunk, rohypnol, and diazepam.
Across Nigeria, the NDLEA's aggressive crackdown on drug cartels continues to yield results. In Osun State, operatives destroyed vast clusters of cannabis farms, arresting two suspects in the process. Additionally, major drug seizures were reported along the Owerri-Onitsha expressway in Imo state, resulting in multiple arrests. A follow-up operation in Port Harcourt, Rivers state, led to the apprehension of the owner of a seized consignment of controlled drugs.
NDLEA's Chairman/Chief Executive Officer, Brig. Gen. Mohamed Buba Marwa (Rtd), commended the professionalism exhibited by the agency's officers and men involved in these operations. He urged the Lagos command to intensify efforts to apprehend the elusive drug baron and charged agents across the nation to ramp up the fight against drug cartels. With a series of successful raids and arrests, NDLEA's dedication to eradicating drug trafficking continues to make significant strides in Nigeria's ongoing battle against this illicit trade.