The National Drug Law Enforcement Agency (NDLEA) has initiated an intensive manhunt for Sowunmi Ayodeji Kayode, a notorious drug dealer based in Lekki, Lagos. Kayode is currently on the run after using his luxury car to crush an NDLEA officer in a desperate attempt to evade arrest during a search of his residence last weekend.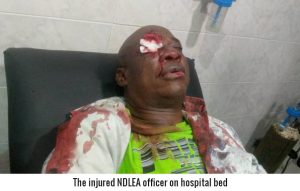 Acting on credible intelligence suggesting that Kayode was involved in illicit drug trade at his residence on 2/3 Adetola Ayeni close, Lekki, the anti-narcotics officers conducted a search operation on Friday, August 18. Despite his absence at the time of the search, Kayode returned to his compound while the operation was still ongoing.
In a shocking turn of events, upon spotting the NDLEA officers, Kayode swiftly reversed his vehicle, striking and injuring one of the officers. He then proceeded to forcefully knock down his own gate and crash into the fence of an adjacent property. The impact of the collision also caused substantial damage to his neighbor's compound. Exploiting the chaos, Kayode abandoned his car and fled the scene on foot. The search of his residence yielded the discovery of 10.5 kilograms of a controlled substance known as "Loud."
In a statement signed by the Director, Media and Advocacy,
Femi Babafemi
, the
NDLEA
Chairman and Chief Executive Officer,
Brig. Gen. Mohamed Buba Marwa
(Rtd), responded to the incident by ordering the deployment of appropriate operational assets to track down the fugitive suspect. Additionally, he authorized comprehensive medical care for the injured officer, who suffered multiple injuries and compound fractures in both legs as a result of the vehicular assault. The officer is currently receiving treatment in a hospital to facilitate his recovery.
The NDLEA's pursuit of Sowunmi Ayodeji Kayode underscores the agency's commitment to apprehending drug dealers and maintaining law and order in the community. The incident serves as a stark reminder of the dangers and challenges faced by law enforcement officers in their efforts to combat drug-related crimes.