The United Arab Emirates (UAE) has officially lifted the visa ban on Nigerian travelers. The announcement was made by Ajuri Ngelale, the Special Adviser to the Nigerian President on media and publicity, in a statement issued on Monday.
This landmark decision comes following a crucial meeting between Nigerian
President Bola Ahmed Tinubu
and the President of the UAE,
Mohamed bin Zayed Al Nahyan
, in Abu Dhabi. The discussions between the two heads of state have resulted in immediate measures to restore flight activity between the two nations.
One of the most significant aspects of this development is that it does not entail any immediate financial burden on the Nigerian government. Instead, it reflects a collaborative effort to strengthen bilateral relations and stimulate economic growth.
President Tinubu's economic development diplomacy drive and proposals played a pivotal role in this breakthrough. The joint framework agreed upon by both nations will see the UAE making substantial investments worth several billions of U.S. dollars in various sectors of the Nigerian economy, including defense and agriculture. This infusion of capital is expected to boost economic development and create opportunities for both nations.
Furthermore, a new foreign exchange liquidity program, negotiated by President Tinubu, is set to be unveiled in the coming weeks, promising even more economic benefits for Nigeria.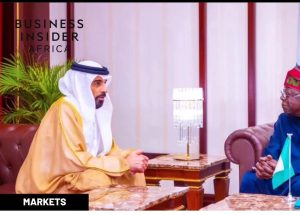 In his commitment to strengthening the ties between the two nations, President Tinubu aims to normalize and elevate the standard of relations to excellence. This diplomatic breakthrough is poised to have a lasting impact on the relationship between Nigeria and the UAE, opening new doors for cooperation and economic growth.
By Olaogun Grace