The Managements of the Lagos State Police Command and the Lagos State Neighbourhood Safety Agency on Tuesday, August 10, 2021 met to further strengthen the existing synergy between them for improved security/ policing in the State.
The security meeting specifically discussed the important,  complementary role of Special Constabularies in the overall security architecture of the Lagos Police Command.
Represented by the Deputy Commissioner of Police, Department of Finance and Administration, DCP
Bassey Ewah
, the State Commissioner of Police,  CP Hakeem Odumosu, emphasized the need for constant interface between the Police Command and the
Lagos State
Neighbourhood Safety Agency so as to address grey areas that required urgent attention.
Leading the LNSA delegation, Prince Falade Oyekan,  assured of his Agency's  continued collaboration towards making the State safer.
To further assure Lagosians of adequate security in the state and the determination to rid the state of miscreants and other criminal elements, the State Police Command in a well-coordinated, intelligence-led and  purposeful operation, carried out a raid on notorious blackspots at Canal Axis in Ago-Ogota area of the State around 8:00 pm on Wednesday, August 11, 2021.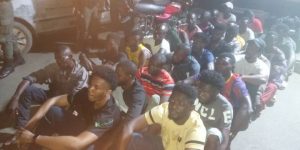 The operation, led by the Operations Department of the Command, was in line with the earlier directive of the Commissioner of
Police
, CP Hakeem Odumosu, that all hoodlums hibernating in shanties as cover before carrying out their clandestine, and nefarious acts should be completely dislodged in every part of the State.
During the night raid, a total of twenty-eight (28) miscreants suspected to be criminals who have being pains in the necks of residents of the affected area were arrested and the illegal shanties destroyed. The suspects are currently being interrogated and profiled
The Commissioner of Police has vowed to sustain the ongoing raid until the State is completely rid of such undesirable elements.