In a significant move towards bolstering collaboration between key law enforcement agencies, Acting Inspector General of Police (IGP) Kayode Adeolu Egbetokun embarked on a momentous visit to the Chairman of the Police Service Commission (PSC), Dr. Solomon Arase, fdc.
The rendezvous, which took place on Thursday, August 3, 2023, at the
Commission's Corporate Headquarters
in Jabi, Abuja, marked a pivotal step towards fostering mutual understanding and synergy between the Police Force and the Commission.
During the high-level meeting, both leaders engaged in constructive dialogues aimed at elevating policing services and administrative efficiency across the nation. The discussions centered on paramount issues that revolved around the optimization of law enforcement efforts, with an unwavering commitment to preserving justice and safety for all citizens.
The Acting IGP, Olukayode  Egbetokun and the Commission Chairman, IG
Arase Solomon
(rtd) underscored the pivotal role of seamless cooperation and harmonized coordination in ensuring the unfaltering delivery of top-notch law enforcement services. Their shared vision resonated with the principles of upholding public safety and ensuring a just society.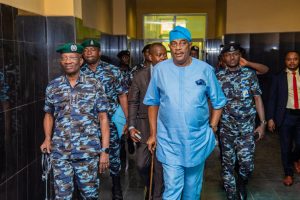 In a parallel stride, Acting
IGP
Egbetokun extended a warm reception to the Comptroller General of the Nigerian Customs Service, Acting CG
Adewale Adeniyi
. The courtesy visit, hosted at the esteemed Louis Edet House, Force Headquarters, Abuja, laid the groundwork for a dynamic collaboration between the Nigerian Customs Service and the Police Force. Both agencies recognized the immense potential for cross-functional partnerships to fortify their operational endeavors.
The discussions between the law enforcement titans encompassed a wide spectrum of strategic initiatives, ranging from joint training programs to heightened border surveillance efforts. The stakeholders also delved into refining investigation methodologies and carving out a robust mutual working relationship to fortify internal security throughout the nation.
Acting IGP Egbetokun voiced his resolute dedication to forging a seamless alliance with both the Police Service Commission and the Nigerian Customs Service. This harmonious approach is poised to elevate the overarching security architecture, furnish a proactive shield against crime, and safeguard the prosperity of all citizens.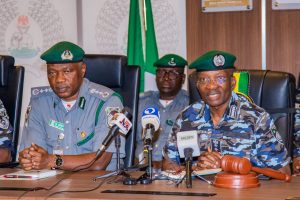 Resonating with the collective sentiment, both the Police Service Commission and the Nigerian Customs Service lauded the Acting IGP's visionary outlook and steadfast commitment to effectual law enforcement. They pledged their unwavering support in realizing these shared objectives, thus propelling Nigeria towards an era of enhanced safety, security, and national well-being.