In a significant move towards enhancing transparency and accountability within law enforcement, Acting Inspector-General of Police, Kayode Egbetokun, inaugurated the first Complaints Response Unit (CRU) on Wednesday at the Nigeria Police Command Ikeja, Lagos.
IGP Egbetokun Olukayode emphasized that the primary aim of the CRU is to establish an effective platform for interaction between the police and the public, particularly in addressing unprofessional conduct. The unit will serve as an avenue for individuals and groups to voice complaints and seek redress against police misconducts and human rights abuses.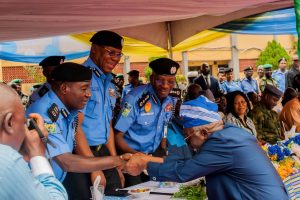 Commending the Ikeja Police Command for adhering to his directive, Egbetokun highlighted that the establishment of the CRU is authorized by Section 131 of the
Police Act of 2020
, granting the Inspector-General the authority to create such units across all states.
He stressed that the CRU's purpose isn't to target police officers but to foster accountability within the force. Egbetokun emphasized, "It is going to enhance police-community collaboration and build confidence with members of the public."
He further urged the public to provide information to the police, assuring transparency and seeking cooperation in return and also advised against reporting police misconduct on social media, suggesting that the CRU would streamline the process and ensure careful selection of officers with impeccable integrity. "These officers will undergo comprehensive training, including opportunities for overseas training, to equip them for their roles". IGP assured.
Highlighting the potential benefits of a responsive police force, Egbetokun stated that the police is able to deliver on their constitutional mandate and will all benefit from it. "This inauguration signifies a step forward in bridging the gap between law enforcement and the public, promoting a safer and more accountable society." He noted.