In a resounding show of support and confidence, the officers and men of the Nigeria Customs Service extend their warm congratulations to Mr. Emenike Nwokeoji on his election as the National President of the Association of Nigeria Licensed Customs Agents (ANLCA).
The highly anticipated election, held on Thursday, September 7, 2023, marks a significant turning point for the customs brokerage sector in Nigeria.
The Acting Comptroller General of Customs,
Bashir Adewale Adeniyi
MFR, conveyed his felicitations to Mr. Nwokeoji and expressed optimism in his leadership. The Acting CGC believes that Mr. Nwokeoji's tenure will usher in an era of solid and visionary guidance for
ANLCA
, promoting collaboration between the association and the Nigeria Customs Service to further the interests of customs agents nationwide.
Notably, the Customs Boss praised the
Customs Consultative Council
for their instrumental role in brokering peace among various factions within ANLCA. Their dedication and effort facilitated a successful election process, which has been heralded as a significant step towards unity and progress within the association.
As the Nigeria Customs Service eagerly anticipates a productive partnership with ANLCA to advance the customs brokerage sector, the Acting CGC emphasized the importance of all Customs Licensed Holders abiding by the law and adhering to the terms and conditions of their licenses, whether as individuals or groups.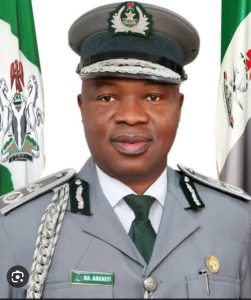 This pivotal election of Mr.
Emenike Nwokeoji
as National President of ANLCA symbolizes the beginning of a promising chapter for customs agents in Nigeria, with the Nigeria Customs Service standing in full support of their endeavors.