In a momentous ceremony held at the Ogun State Police Command Headquarters, the Commissioner of Police, CP Alamutu Abiodun Mustapha, psc, adorned deserving officers with the esteemed rank of Assistant Superintendent of Police (ASP). With his distinguished management team by his side, CP Alamutu congratulated each officer while imparting words of wisdom and counsel.
The atmosphere at the
Ogun State police Command
was charged with excitement as jubilant beneficiaries eagerly stepped forward to receive their well-earned decorations from the state's top law enforcement official. The rank, colloquially referred to as the "one star," signifies the officers' entry into a realm of increased responsibility and discretion. Esteemed for its importance, this rank commands profound respect within the Police Force, requiring officers to embody the Force's image positively and demonstrate heightened resilience.
Addressing the newly adorned officers,
CP Alamutu
urged them to rise to the occasion, emphasizing the imperative of representing the Police Force with unwavering professionalism. "There's no room for complacency," he stated, urging them to deliver their primary duty of safeguarding lives and properties.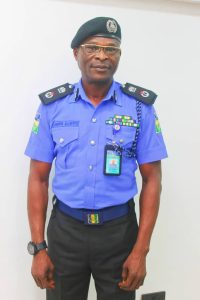 He advised the officers to strike a balance between fairness and firmness in their actions, asserting that he demands nothing less than exceptional service befitting their homeland.
As these officers are poised to assume new roles, the Commissioner of Police, CP Alamutu reminded them of the commitment and dedication expected in fulfilling their responsibilities.
Among the distinguished honorees were Adebo Alice, Philomina Imahanna, Sulaimon Wasiu, and several others, who had fulfilled the rigorous criteria established by the Police Service Commission. These officers not only excelled in written examinations but also demonstrated physical fitness, paving the way for their ascent to the next rank in accordance with their enlistment dates.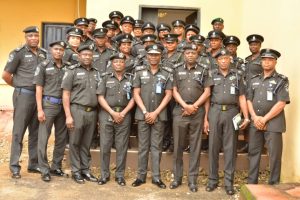 Speaking on behalf of the newly decorated officers,
Owoeye Victor
expressed their collective determination to become exemplary ambassadors of the
Nigeria Police Force
. He pledged that they would uphold the CP Alamutu's counsel, diligently adhering to the rule of law and championing fundamental human rights as they fulfill their duties. As the newly adorned officers embark on their diverse areas of responsibility, a sense of anticipation and pride fills the air.
The ceremony serves as a reminder of the significance of their roles in maintaining law and order within the community. With the Commissioner's guidance and their unwavering dedication, these officers are poised to contribute positively to their policing careers, exemplifying the ideals of honor, integrity, and service to the nation.