There are indications that the wife (Gifts Onyekere Ezenwa) of late billionaire kidnapper, Collins Ezenwa, who was also known as E-money, is currently sponsoring a popular broadcasting organisation Reports against, Deputy Commissioner of Police, DCP Abba Kyari, following roles he played that led to the Court confiscating her late husband properties, which were proceed of his kidnapping activities.
Fasnews learned that DCP Abba Kyari and his team had rejected gratifications from, Emoney's wife, Gift Ezenwa and her lawyer, Justus Ijeaoma, before approaching the Federal High Court Owerri, to have late kidnappers Properties forfeited to Federal Government.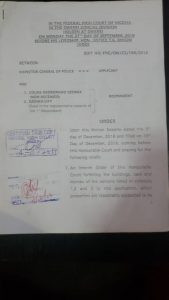 It 
was also gathered that E-money, who was a police corporal serving at the Imo State Police Command, in the year 2017 before he ventured into kidnapping and was eventually killed during a gun duel with some anti-robbery policemen from Imo state in 2018, bought 13 buildings, located around choice areas within Enugu, Abia and Imo states, including a hotel valued at about N220million in Enugu State.
All this properties were discovered to have been purchased by the late billionaire kidnapper within the space of two (2) years as he collects Ransoms in US Dollers, just like Billionaire Kidnapper Evans, who is currently standing trial for high profile kidnappings and murder while detained in the Kirikiri Maximum Correctional Center.
E-money also bought 13 expensive vehicles including Jeeps and other Luxury cars, while the sum of N100million was found in a bank account belonging to his wife, Gift within the same period.
Abba Kyari, who was the head of the Force Intelligence Response Team, IRT, at that material time and the IRT was tracking E-money before his demise, (over some of the kidnappings he coordinated and some of his victims that were currently still missing, after ransom was paid to him in millions of dollars) went after all the properties E-money acquired with the proceeds of his kidnapping activities and a court ordered a lean to be placed on the bank account housing the N100million found in Gift's account.

Having confiscated these properties and notices were placed on them, indicating that the were subjects of investigation, the IRT then proceeded to the Federal High Owerri in 2018 and sorted for an order of the court, asking that Kidnapper Emoney and his wife, should forfeit all the properties including the N100million to the Federal Government of Nigeria in a suite marked FHC/Ow/CS/180/2018 as they were proceed of kidnappings.

The court eventually granted the order of forfeiture in September 2019, but at the time the court granted the order, Gift and her lawyer, Justus Ijeoma had spirited the N100million from her FCMB bank accounts, even while a lean was placed on the accounts as it was a subject of police investigation and the court process for the forfeiture order was served on Gift Ezenwa and her lawyer Justus Ijeoma, putting them on notice that the N100million was also subject of the court process.
They were said to have left just N6,800 in the account and Gift Ezenwa transferred the sum of N10million from the proceed of the crimes to her lawyer and fled Nigeria to the United Kingdom, with the remaining N90million and some other Hugh Foreign Currencies kept in their Enugu Mansion by the late Kidnapper E-Money.
While this was discovered, the IRT lawyer Uhumwanho Nosa Watson, approached The Federal High Court Owerri, and filed a nine (9) count criminals Charge marked FHC/ ow/ 05c/ 2019 against Gift Ezenwa, and five others who helped her in pulling out the money from her accounts, leaving behind Justus Ijeoma, who also took N10million from the money.
While that was on, the IRT lawyer filed an additional Proof of Evidence, on July 2021 before the Federal Court Owerri, on a Charge marked, FHC/OW/05C/ 2021 and Justus Ijeoma and the FCMB Bank PLC, were joined as defendants in the charge.
Following these developments, Gift Ezenwa and her lawyer, Justus Ijeaoma vowed to dragg Abba Kyari's hard earned reputation to the mud using the media whenever an opportunity arises.
A police source, who spoke on the condition of anonymity disclosed that Justus Ijeaoma and Gift Ezenwa, have been using the N100million, stolen from the bank to sponsor media campaigns against Abba Kyari.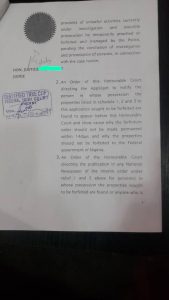 "I have been following events on this matter since it started. I know E-money, while he was serving in Owerri, and we knew when he left and became a kidnapper.
"It is important that the public is properly informed that most of the negative stories they read on the news or see on the social media, against Kyari, is emanating from Emoney's wife and her lawyer.
"They belong to a network that specializes in producing scandalous stories against Kyari, so as to turn the public against him and all because of good jobs he was doing in ensuring that criminals pay for their crimes.
"I was informed that they have gone to a popular broadcasting company with more fabricated lies against Abba Kyari, on this Emoney's case and other associates, family members of kidnappers and Armed robbers arrested before and when it is published, they will present Kyari, as a monster. They will want to twist any thing he says against him, all because he was doing his job.
"I have it in good authority that E-money's Wife Gift and her Lawyer Ijeaoma have been spending millions of Naira at the Force Headquarters Abuja, trying to bribe officers at the Police Legal Departments to take over the case from the IRT, so they can have the charges filed against them at the Federal High Court Owerri, withdrawn, undermining the fact that the same Court has granted the police an order of forfeiture on all properties belonging to the late kidnapper in Abia, Imo and Enugu States to the Federal Government.
"I am happy that the matter is before a competent court and if they deceive Some members of the public with their lies, I believe they can not deceive the court." The Police source said.
By Charles Ovie