The National Association of Online Security Reporters, NAOSRE, a media union dedicated to swift and unbiased security and human rights issues reportage, has become the media arm of the Lagos State chapter of the Committee for the Defence of Human Rights, CDHR, a civil society.
NAOSRE was inducted in Lagos on Saturday, August 7, 2021 as part of the activities to mark the 81st Posthumous Birthday celebrations of Dr. Beko Ransome-Kuti , who was one of the founding pillars of the foremost human rights organization.
During NAOSRE inaugurating led by Comrade Femi Oyewale, Comrade
Kehinde Adeoye
, Lagos State CDHR Chairman and Barrister Malachy Ugwummadu, former CDHR President urged NAOSRE to live up to its billing as the fourth (4th) estate of the realm.
He added that as a constitutionally recognized institution, the media association, NAOSRE must redouble its efforts in internalizing and externalizing the patriotic activities of CDHR through quality publicity to birth the desired Nigeria where the rule of law and respect for human rights would define the fabrics of governance.
In his welcome address, Comrade Adeoye called on journalists to use the pen to expose all forms of human degeneration, corruption, oppression, suppression and repression until bad governance is completely eradicated.
He described the Beko Kuti posthumous birthday lecture themed "Any Hope For Good Governance In Nigeria?" as highly significant because it is in honour of a foremost, uncompromising, altruistic, irrepressible and indefatigable human rights icon who fought for the emancipation of the Nigerian people from misrule, bad governance and abuse of human rights.
Making his remarks at the public lecture, chairman of the occasion and Senior Advocate of Nigeria, SAN, Mr.
Femi Falana
enthused that all hope is not lost but stressed that all hands must be on deck to steer the Nigerian ship to safe berthing for economic prosperity, political stability and social harmony.
He pointed out that the military junta derailed Nigeria's growth and steady progress during the first republic and questioned the impudence of former President Ibrahim Babangida who claimed to be a saint in the face of the overwhelming corrupting that has enveloped Nigeria when he planted and nurtured the seed of corruption in the country.
Falana emphasized that one of the best ways to honour late Beko Ransome Kuti is to keep the struggle for the respect of human dignity alive which Beko lived and died for.
He reminded
CDHR
members and all human rights advocates, including the media, that the struggle is far from over until transparency and accountability are enthroned in democratic governance.
Highlighting the litany of Beko's struggle for democracy, Falana disclosed that during the secret trial of Olusegun Obasanjo, Shehu Musa Yar'Adua and many others by late General Sanni Abacha "One of the convicted lawyers smuggled a small note through one of the lawyers, alerting the CDHR President of government's plans to kill them any moment from now.
"Beko Ransome Kuti immediately organized a press conference, though it was stated that no local media published it. But BBC did.
"It was on that note, Beko Ransome Kuti was arrested and taken to a military tribunal. The only question Beko was asked was whether he owned telephone number 963-9534 and he said, I own it.
"Beko had called the BBC with that number and it was on that basis that he was sentenced to life in prison," Falana stated.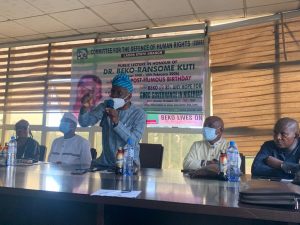 The Senior Advocate of Nigeria further enlightened members on their rights including bail which he said is free.
Barrister Affiong L. Affiong, Comrade Tunde Oladunjoye including Comrade Funmi Kuti who represented the Ransome-Kuti's family added their voices as guest speakers and sued for commitment to the goals of CDHR so that Nigeria can be liberated from the grips of political buccaneers.
CDHR was incorporated in April 1989 during military rule and has, since then,  provided invaluable supports to citizens in the defence and protection of their rights home and abroad.