In a deeply concerning turn of events, Ogun State has witnessed an alarming surge in defilement cases, with no less than four incidents reported in the penultimate week alone. The gravity of this disturbing trend prompted the Commissioner of Police, CP Alamutu Abiodun, psc, to issue a heartfelt appeal to parents, urging them to adopt an authoritative and supportive style of parenting.
This approach, he emphasized, will not only foster obedience and discipline but also cultivate a strong sense of confidence in their children. The dire need for this appeal became even more apparent when another tragic case of defilement came to light, this time in the Odogbolu Division of
Ogun State
.
A parent from Agbowa Road, Aiyepe Ijebu, reported an egregious incident involving his 11-year-old daughter. The accused, Lawal Hammed, a 20-year-old resident of 5 ABA Quarters, was alleged to have deliberately and unlawfully engaged in sexual intercourse with the young girl within the confines of his own bathroom.
Disturbingly, it was revealed that this reprehensible behavior had persisted over a significant period, with the suspect having reportedly subjected the victim to repeated sexual harassment. In response to this heinous crime (defilement), authorities promptly took action by ensuring the victim's welfare.
The young girl was swiftly taken to the
Odogbolu General Hospital
, where she underwent comprehensive medical examinations and received vital emotional therapy and counseling.
The legal framework in Nigeria leaves no ambiguity regarding such abhorrent acts. As stipulated in Section 218 of the Criminal Code Act, any individual who engages in unlawful carnal knowledge of a girl under the age of 13 is unequivocally guilty of a felony.
The punishment for defilement is imprisonment for life, the severity of which will be determined by the court. To this effect, following the conclusion of a thorough investigation, Hammed, the 20-year-old suspect, will be brought before the court to answer for his alleged actions. The charges against him will be substantiated by the compelling material evidence obtained through forensic examination.
In the face of these distressing events, it is imperative for both law enforcement agencies and society at large to unite against the scourge of defilement. The recent surge in cases has cast a grim spotlight on the need for vigilant and proactive parenting.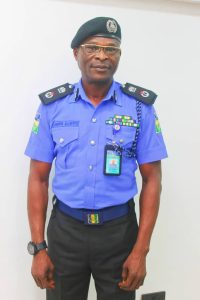 The call by
CP Alamutu Abiodun
serves as a poignant reminder that parental involvement and guidance are crucial in shaping the future of our children and safeguarding their innocence. As Ogun State grapples with this disheartening surge in defilement cases, it is hoped that increased awareness, education, and legal action will ultimately help put an end to this distressing trend.