In a grand display of respect and community engagement, the Group Managing Director of Adron Homes and Properties, Aare Adetola Emmanuel-King, along with the Executive Director, Olori Aderonke Emmanuel-King, led a fifty-member team to pay homage to the revered Ooni of Ife.
This impressive delegation, led by the Director of Public Affairs, DPA Comfort, not only paid their respects but also etched lasting memories in the hearts of those present.
The event, which took place in the historic city of Ile-Ife, was a testament to Adron Homes and Properties' commitment to building strong relationships with local communities and honoring cultural traditions. As the group arrived at the Ooni's palace, the air was filled with anticipation and excitement.
Upon their arrival, Aare
Adetola Emmanuel-King
and Olori
Aderonke Emmanuel-Kin
g, dressed in traditional Yoruba attire, were warmly received by His Imperial Majesty,
Oba Adeyeye Ogunwusi
, Ojaja II, the Ooni of Ife. The Ooni, resplendent in his regal attire, extended his warm welcome to the Adron Homes team, highlighting the importance of unity and cooperation between the corporate world and traditional institutions.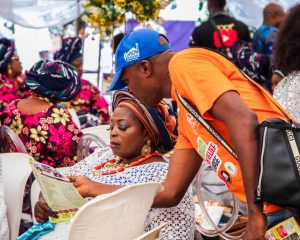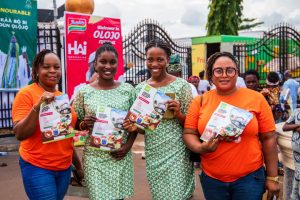 During the visit, Adron Homes and Properties presented a token of their appreciation to the Ooni, symbolizing their commitment to the welfare and development of the communities in which they operate. The Ooni commended the company for their dedication to community engagement and praised their efforts in leaving a positive impact on society.
One of the standout moments of the day was the cultural exchange that took place between the Adron Homes team and the local community. Traditional dance performances, storytelling, and exhibitions of Yoruba heritage were shared, creating an atmosphere of cultural enrichment and unity.
Director of Public Affairs, DPA Comfort, expressed her gratitude for the warm reception and hospitality extended by the Ooni and the people of Ile-Ife. She emphasized Adron Homes' dedication to forging strong bonds with local communities and fostering sustainable development. As the sun set over Ile-Ife, the Adron Homes and Properties team bid farewell, leaving a legacy of goodwill and cultural appreciation.
Their visit not only paid homage to the Ooni of Ife but also left indelible footprints in the hearts of everyone fortunate enough to grace this remarkable occasion. Adron Homes and Properties' commitment to community engagement and cultural preservation continues to shine as a beacon of corporate responsibility and goodwill.