In a bold departure from the global tradition of Black Friday Sales, Adron Homes and Properties has ushered in a unique real estate extravaganza with the launch of "Lemon Friday."
The distinctively named event promises existing and new customers unprecedented discounts on their vast array of landed properties across Nigeria and beyond.
At the official press briefing held at the company's head office in Omole Phase 1, Lagos,
  Adron Homes
' representatives showcased the massive discounts, aligning with global trends while emphasizing their commitment to delivering on promises. The
Lemon Friday
promotion aims to encourage customers to seize the opportunity to secure affordable landed properties, coupled with a chance to win enticing prizes.
Customers can participate by making down payments as low as 30k, opening doors to a plethora of prizes ranging from bags of rice and chicken to household appliances. The innovative approach aligns with Adron's reputation for delivering double value, combining affordable land purchases with valuable gifts and substantial infrastructural investments in their estates.
The Lemon Friday promo offers various categories, each providing customers with the chance to win prizes commensurate with their investment. From modest 30k plans to high-earning 2 million Naira down payments, Adron Homes ensures a diverse range of rewards, including household appliances, livestock, and even plots of land.
To facilitate transparency, the company allows customers to choose their desired gift categories upon subscription, emphasizing the importance of authenticity verification to prevent gift delivery to the wrong recipients. In terms of payment methods, Adron Homes encourages customers to use secure bank transfers or cheques, cautioning against cash transactions to ensure both financial security and personal safety.
A notable departure from the one-day affair of
Black Friday
, Adron Home's Lemon Friday extends its promotional period throughout November until the first week of December. This elongated timeline accommodates customers within Nigeria and beyond, providing ample opportunity to benefit from the remarkable price slashes and lucrative prizes.
For more information, interested parties can visit
Adron Homes and Properties
offices nationwide, connect through social media channels, or explore their website at www.adronhomesproperties.com. Additionally, the company is pioneering the use of AI with a 360 panoramic virtual tour of their properties, allowing clients to explore offerings remotely and make informed decisions efficiently.
Beyond Lemon Friday, Adron Homes is renowned for facilitating affordable homeownership through extended payment plans. The company's estates boast modern amenities, robust security measures, and meticulously planned infrastructure, ensuring a serene and affordable community for homeowners.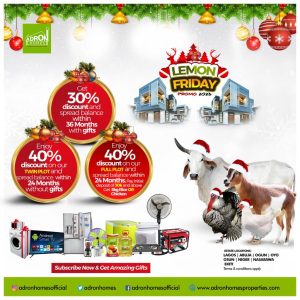 As the dice are cast and opportunities unfold, Adron Homes beckons customers to embrace Lemon Friday, presenting a golden chance to transition from tenant to homeowner in a community built on serenity, peace, and affordability. Act now and secure your piece of the Lemon Friday advantage with Adron Homes and Properties.
By Fikunmi Sokoya