A 21-years -old armed robbery suspect, Nnamdi Omeka was on Tuesday, 14th of September 2021, arrested by Men of Ogun State Police Command while carrying out robbery operation.
The
suspect
was arrested following a distress call received by DPO Sango Divisional Headquarters arpund 9:45 p.m. that a two-man armed robbery syndicate were attacking one
Rasaq Hamed
at Ile pupa Iloye area of Sango Ota in order to dispossess him of his car.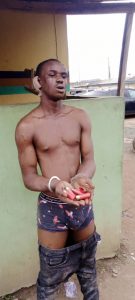 Upon the information, DPO Sango Ota, CSP Godwin Idehai quickly mobilized his patrol team and moved to the scene.
On getting to the scene, the robbers who were shooting sporadically took to their heels, but one of them was apprehended with the help of members of the community, while the other one escaped.
Recovered from them are four (4) live cartridges and one expended cartridge.
In the same vein, an ex convict, Segun Ogundeji was also arrested by the
Command
for impersonation.
Ogundeji was arrested when he came to Sango Ota Divisional Headquarters fully dressed in an Army camouflage uniform to solicit for the release of a suspect.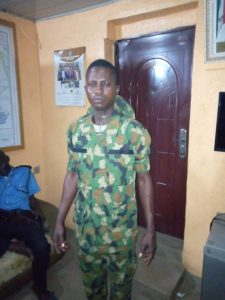 On getting to the station, he met another Air Force man, one Cpl John Temitope who accused the Ogundeji of failure to give him an official compliment, as a result of which an argument ensued between them.
It was the argument that led the DPO Sango to interrogate them and discovered that Segun Ogundeji is not a military man as claimed. It was also discovered that he has once been convicted by a court of competent jurisdiction for impersonation.
The Commissioner Of Police
, CP Edward Awolowo Ajogun
after being briefed of the arrests, ordered a massive manhunt for the fleeing member of the armed robbery  gang and a full investigation into the past activities of the suspects, with the view to charge them to court as soon as investigation is concluded.
Meanwhile, the commissioner of police cp Edward Awolowo Ajogun has ordered a massive manhunt for the fleeing member of the gang. He also directed that the arrested one be transferred to state criminal investigation and intelligence department for discreet investigation.